This guide will help you through the administrative process of running a World Rugby course and details the information you must provide to World Rugby, with step-by-step instructions.
World Rugby has a network of licensed Educators and Trainers all over the world, delivering courses across its training portfolio which broadly comprises of the strands below:
Coaching
Strength and Conditioning
Match Officiating
Player Welfare
Match Day Staff
Administration
Workforce.
What's new
In 2021, World Rugby moved its online learning hub over to its new home World Rugby Passport. This was for many reasons; however, the main reasons were to increase functionality and reporting for our member unions and workforce and to improve the security of the system. Following a successful launch of the online learning hub we have now launched the new and improved Course Administration function (IRIS).
System overview
Here is a brief overview of the Course Administration system to get you started. In the following pages you will find much more detail, but this shows the basic process. One of the main differences you will need to get used to is that you will need to register your course in advance of the delivery date as your delivery of the course will need to be approved by your union and your Regional Training Manager (RTM).
Step 1
Log into https://passport.world.rugby/ (ensure you have registered for the site before you try to log in.)
Step 2
Click on the arrow beside your name (top right of page) and select "Course Administration"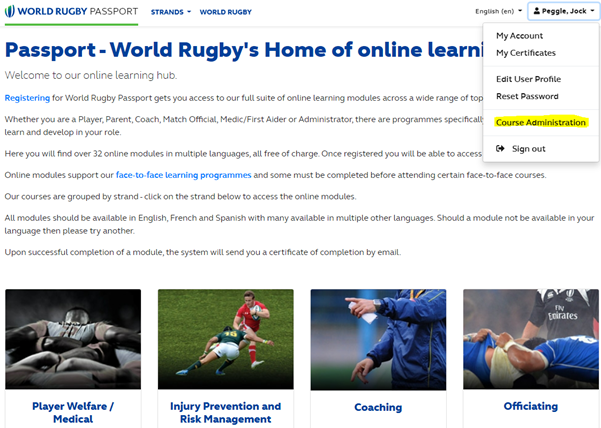 This will take you into the back end of our system which is known as IRIS.
Here you will see your Dashboard. This will give you information on your Actions, your courses, your Quality Assurance status, and your Licenses.

Step 3
Note: Educators are only cleared to deliver courses that their license has been granted for within their strand/s, and at a level below their highest accreditation. Eg: a Coach Educator with L2 accreditation can deliver L1 Coaching.
Click on "Host a course" to commence the course registration process. And then fill in the following information:
Course Start Date
The License you will be using (most Educators/Trainers will only have one to select from). If your license is not listed, then please contact your RTM.
The type of course
The language of the course (choice of 9 – candidates will receive emails and certificates in the language selected)
The union where you are delivering (Remember you are only licensed to deliver courses within your own union unless approval is granted by World Rugby in advance.)
The end date of the course (if known)
Venue Name
Venue Address
Any notes for the attendees
Any additional educators who may be assisting you (subject to license)
Select "Add Course"
Your Course will then be sent for approval by your union and your RTM – you will be able to see the status of this course in the "My actions" section of your Dashboard. It is recommended that courses should be submitted for approval at least two weeks in advance of the starting date.
Once it has been approved, you will see it in the "Recent and upcoming courses section of your Dashboard.
Educators must be added as Course deliverer before having access to the course.
Step 4
Now you need to add attendees to your course. Select the course from the "Recent and upcoming courses" section of your Dashboard.
Select "+ Add attendees". You can now add attendees in 3 different ways:
1. By bulk adding attendees by email addresses – this method can be used if you already have a list of the existing users who are attending the course. Enter attendee email addresses, one email address per line and then click the "Add attendees" button

2. By finding an existing user in the system - The default search is by email address - this should be your standard method. If you are not sure of their email address, then uncheck "Use exact email" for a wildcard search if required.
3. Registering a new user - Do this only when the user does not already exist in IRIS.
4. As you add your attendees you will see them in the "Your draft attendee list"
5. Once all attendees added select "Confirm"
6. Once the attendees have been added you will be able to see if they have any un-met online learning pre-requisites. If they have un-met pre-requisites, then an "!" will appear beside their name. Attendees will not be certificated unless they have completed all online learning so you may need to remind the attendees to complete before they attend.
Step 5
In preparation for the course, you will need to download the Course Materials that are required for delivery. These may include Educator notes, PowerPoint presentations, Candidate Workbooks as well as Assessment Transcripts. Click on the "Course Materials" tab to download. You can also access the course materials by clicking on the "Fileshare" option in the menu on the left-hand side.
Step 6
You will see there is a "History" tab – this contains details of the course and here you can add an Educator note with your own information on the course. This may be information relevant to the course such as "Attendee X had to leave the course early and missed assessment" or "Additional follow up session planned for 2 days' time" You can add any information that is relevant to the course.
Step 7
Attendance-based (non-assessed) courses
Once you have finished the course, and the attendee has completed all online pre-requisites, then tick the checkbox beside the attendee's name and then select "Request Certification Approval" and then "Update status"

This request will now be sent to the RTM to approve Certification. Once the RTM approves certification then the attendee will receive their attendance certificate via email. It will also show in their "My Certificates" section of their passport account.
Note: Only Educators who have been added as course deliverers can request for certification.
Assessment-based courses
During delivery of the course, you should use the PDF Transcript as a tool to record and notate information about an attendee's performance.
Once you have added an attendee to the course you will now need to add their assessment details electronically. You can do this by following the stages below:
Click on "Add" under the assessment column beside their name.

Select assessment language
For each competency criteria select either:

Not Yet Competent (if selected you must add comment to justify)
Competent
Excellent

Make sure you add the assessor comment – this should include their strengths and their areas to develop as well as some suggestions on how to build on strengths and develop their not so strong areas
Make sure you add the Attendee self-reflection – again this should include what they will do to build on their strengths and develop their not so strong areas. This information should be gained from your one-to-one discussion with the attendee at the end of the course before you enter it into the system.
Once complete then select "Save" – it is then saved in a Draft form.
Once you are satisfied that the assessment is fully complete then you should select "Save & Publish" – note that the assessment cannot be edited after this purpose.
If assessed as "Competent or Excellent", then the Assessment will be sent to the RTM for approval. Once the RTM approves certification then the attendee will receive their attendance certificate via email. It will also show in their "My Certificates" section of their passport account.
If assessed as "Not Yet Competent" then the assessment will remain in draft form to enable further assessment at a later date by yourself or another educator. 
Quality Assurance (QA)
Quality Assurance is an important tool to maintain the quality of the training and education workforce.
All Educators should be quality assured at least once in the duration of their licence (every two years) by a Trainer from the same strand, a Master Trainer, or an RTM (or Medical Education Manager).
All Trainers should be quality assured at least once in the duration of their licence (every two years) by a Master Trainer, an RTM (or Medical Education Manager).
Quality Assurance Is a criterion for relicensing.
Unions are responsible for ensuring their workforce of Educators and Trainers are quality assured. This is part of the condition of delivering World Rugby Courses.
Union Training Managers must liaise with the Regional Training Managers (RTM) and Medical Education Managers (MEM) as part of the re-licensing process to arrange the Quality Assurance of their workforce.
Why do we conduct Quality Assurance?
To ensure course is being delivered as per World Rugby Guidelines (outcome-based learning, format and content)
To reinforce good practice
To identify areas for development
To develop effective self-reflection
To establish appropriate action plans for future delivery
To reinforce the relationship between Trainers and Educators
To satisfy relicensing requirements
To make recommendations regarding future assignments and potential progression
To support the relicensing process
To revoke licences / remove licences where applicable.
This new system has been developed to enable more rigorous completion of the Quality Assurance process. Your licence (s) will show one of the current QA statuses below:
| | |
| --- | --- |
| QA complete | QA for this license period is completed |
| Awaiting QA | QA for this license period has not been done but there is sufficient time to get it completed |
| QA Due | QA needs to be completed within a year |
| QA Due Imminently | QA needs to be completed within the next 6 months |
| Below Standard | If below standard, then this will be taken into account for relicensing and your Trainer will arrange a follow-up sesson. Note: If you receive Below Standard twice, your licence will be revoked. |
Please ensure you liaise with your Union and RTM to complete your QA when due.