Laws of the Game
Welcome to the World Rugby Laws of the game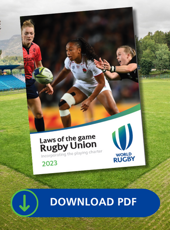 Here you can find the game laws in full – including explanatory videos - a full definitions list; the laws for the different variations and modified forms; match official signals, as well as formal law clarifications and law application guidelines. You can also download the law book in PDF format, as well as access our IOS and Android apps.  If you would like to demonstrate your understanding of the laws, the World Rugby Laws exam is available too.
The game's laws are available in multiple languages - you can toggle the language options via the top right of the screen to select the best one for you. Please note that not all content is available in all languages.
If you're a match official, or interested in developing match officiating skills, you can access other training and education materials relating to officiating here 
Got a question? 
If you want to ask a question about the laws of the game, you can e-mail us at [email protected] The team will respond as soon as possible.