Who do analysts work with?
At club and professional level, analysts often find themselves working in multidisciplinary environments. An analyst's role will predominantly find them working with the coaching team but there is requirement to work closely with the other support staff such as Strength and Conditioning (S&C) coaches, medical staff, and in large organisations the scouting team. Other tasks placed on the analyst may also require them to provide support to officials or any legal processes around the game such as citing and judicial. Analysts may also be requested to support the general manager or owner of the club, or to produce work to support board level matters.
The figure below highlights what a multidisciplinary team may look like in an organisation, it is evident to see the number of staff an analyst may have contact with.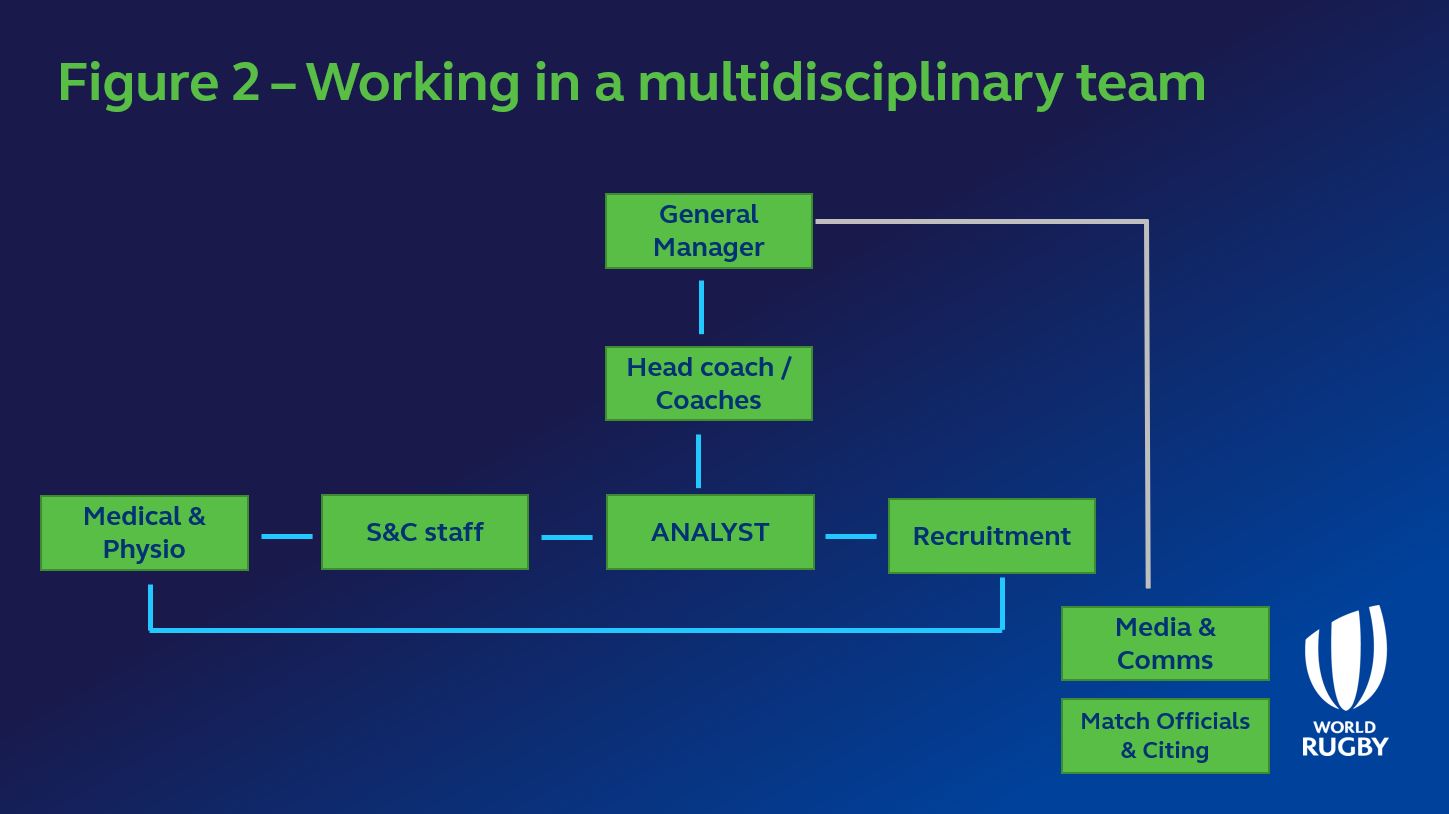 Analysts not only need the technical skills to be able to do their job, but also soft personal skills that allows them to build trust and form relationships with staff and players. As a key member of the team, analysts frequently share and transfer information across departments. Below are the types of specific roles an analyst will perform with the different types of management staff.
| | | |
| --- | --- | --- |
| Staff | Frequency of collaboration | Key role |
| Coach | Daily | Providing key support to coaches throughout the season. Forming opposition previews, filming and sharing training footage, supporting feedback during matches, Coding and reviewing matches, Monitoring Key Performance Indicators (KPIs) set out by the coaching team. |
| Player | Daily | Analysts will often find themselves talking with players so must be comfortable providing the statistical and visual evidence they feel will make an impact. |
| S&C Staff | Daily | Storing and sharing footage that provides feedback to players of previous performances and allows them to preview opposition for future matches. Some analysts work closely with S&C staff monitoring player load and work rate throughout the training week and matches. Sometimes analysts are required to film gym and/or conditioning sessions to provide video to the coach. |
| Medical/Physio | Weekly | A key role with the medical staff is being able to find footage of injuries to assist the medics and physios to quickly diagnose and adopt the correct rehab needed to get the player back training as quickly as possible. |
| General Manager | Seasonally | An analyst may be required to provide some sort of written report to the General Manager, or owner, at particular parts of the season. These will likely be general team update reports that focus on how the team is performing. |
| Scouting Team | Seasonally | Depending on the recruitment focus of the club or organisation, some analysts may find they work with scouting teams regularly, often providing data and video to scouts when viewing potential players. |
| Media and Communications | Varies depending on role | Provide player or team data to communication departments when required. |
| Match Officials | Varies depending on role (can be regular) | The analyst may be required to monitor the performance of match officials and provide the data and video feedback to support development e.g. if working within a governing body. |
As performance analysis becomes an invaluable part of teams and organisations; analysts are becoming more familiar working in multidisciplinary environments. Now that analysis has created its own status; analysts are expected to be a driver of the discipline, pushing forward the ideas that add value to the team whilst remaining part of the overall strategy and plan.