Equipment, environment and emergency plan
Before playing Rugby, there are various checks which should be undertaken to ensure that all equipment and the environment are Rugby Ready. It is also important to develop an emergency plan to ensure that if an incident does occur, everyone involved knows their role and responsibilities, and the incident is then managed effectively.
Players' personal equipment
Players can help themselves and potentially prevent injuries to themselves and other players by ensuring they use appropriate equipment.
Mouth guards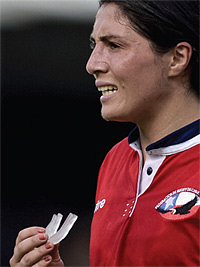 It is strongly recommended that all players wear a custom-made mouth guard during practice sessions and matches. A good mouth guard protects the teeth and surrounding soft tissue and can prevent a broken jaw. Since mouth guards became compulsory in New Zealand in 1997 there has been a 47% reduction in Rugby-related dental claims. Mouth guards made from a dental mould generally provide the best protection.
There are two important considerations in a mouth guard; the fit so that it is retained easily and spreads forces correctly, and its ability to absorb energy (material and thickness).
Footwear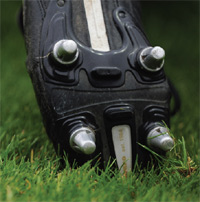 Players' footwear should be in good condition and appropriate to the playing surface. Cleats / studs should be appropriate to the conditions and must conform with World Rugby Specifications (Regulation 12) - that is, they must not be longer than 21mm, and must not have any burring or sharp edges.
Scrum caps and head guards
Properly fitted headgear can help prevent soft tissue injuries to the head and ears. There is no evidence that headgear provides protection against concussion. Headgear must comply with World Rugby standards.
Head guards are not recommended in all players because there is some evidence that they can encourage risk taking behaviour. The more important way of preventing head injuries is to ensure players have good technique in the tackle and other contact phases.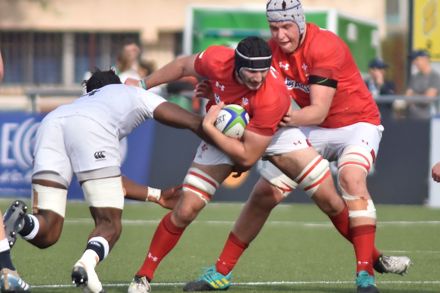 Padded equipment
Research shows that padded equipment can help reduce the number of minor injuries such as bruises, cuts and abrasions. It does not protect against major injuries and should not be worn as a means of allowing injured players to return to play before they are fully recovered. For all matches, padding must be in accordance with the Laws of the Game and World Rugby regulations and be approved. All World Rugby approved clothing will carry the logo shown below.
A pre-match safety check by match officials will identify potentially dangerous items such as rings or elements of dress that do not comply with World Rugby specifications.

For more information on provisions relating to players' dress, see World Rugby Regulation 12