Scrum Ready
The starting point is to understand the individual body shape required of all participants. Players must adopt and maintain a strong and stable body position throughout the process.
Players should progress to the next stage only when they can demonstrate competence at each stage of the process as defined below.
Players should NOT play in the scrum until they are Scrum Ready.
In the images on the following pages, the player in red is the player going through the the Scrum Ready process.
Advice offered for each stage holds true for subsequent stages.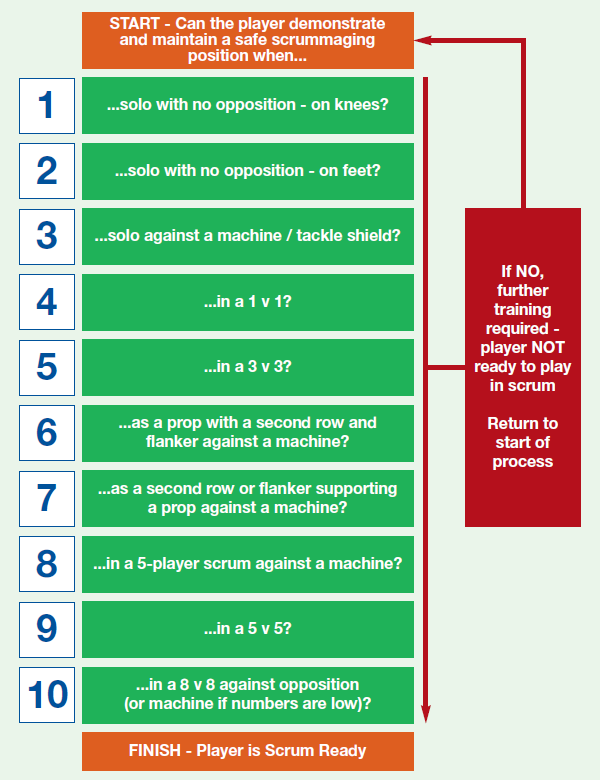 RESEARCH
Player safety research for the scrum tells us that:
The propensity for injury (risk per scrum event) has been rated as the highest for all contact events studied
Reductions in scrum-related spinal injuries have been achieved through the introduction of compulsory injury prevention programmes
A mismatch in skill, experience or strength has been identified as a risk factor for injury in the scrum, with evidence of a mismatch of some type in 25% of all scrum injuries
Lack of experience of playing in the front row has been highlighted as a risk factor for injury and attributed in around 40% of scrum injuries
Several studies have identified that up to 50% of scrummaging injuries occur during the engagement phase
1. Solo with no opposition - on knees
TECHNIQUE
KEY POINTS FOR PLAYERS
Head in neutral position
Shoulder blades back
Chest out
Chest ahead of the knees
Tight core (stomach muscles clenched)
Hips tilted (bum pointing out/up)
COACHING TIPS
Encourage all scrum players to strengthen the neck and shoulder areas during training
Observe and analyse player's body position before, during and after engagement and correct technique accordingly
2. Solo with no opposition - on feet
TECHNIQUE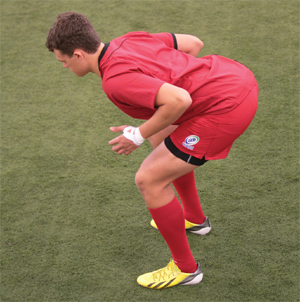 KEY POINTS FOR PLAYERS
Knees slightly bent
Feet shoulder-width apart and pointing forwards
Weight on balls of feet
COACHING TIPS
Ensure that all players are wearing suitable footwear for the playing surface and conditions
REFEREE TIPS
Ensure that all players are wearing suitable footwear for the playing surface and conditions
3. Solo against a machine / tackle shield
TECHNIQUE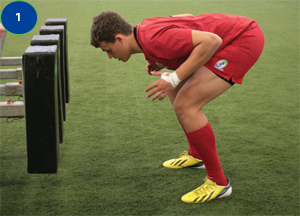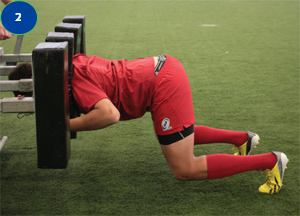 KEY POINTS FOR PLAYERS
On engagement work hard to maintain a safe, strong and stable body position whilst binding safely to the machine
COACHING TIPS
Practice using the correct engagement sequence
Ensure backs are flat and heads are in a neutral position. If the head is down, the body will follow. If the head is too high, there is the risk of impacting the head on the opposition shoulder, thereby putting stress on the neck
REFEREE TIPS
Practice using the correct engagement sequence
4. In a 1 v 1
TECHNIQUE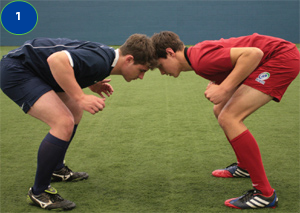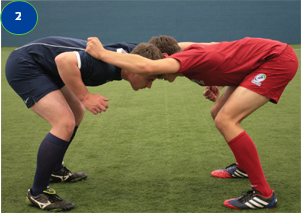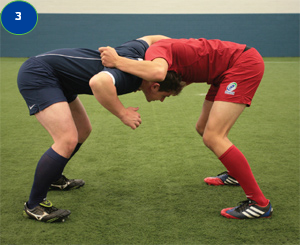 KEY POINTS FOR PLAYERS
Aim to position 'ear to ear' with opponent at crouch stage
Engage after following the correct sequence and only after the referee's command
Form a legal bind with opponent
On engagement work hard to maintain a safe, strong and stable body position
COACHING TIPS
Ensure players bind legally
REFEREE TIPS
Ensure players are aware of the correct engagement sequence
Look out for illegal binding
5. In a 3 v 3
TECHNIQUE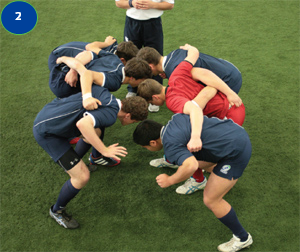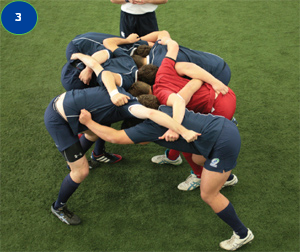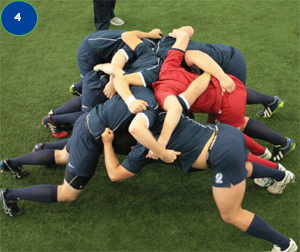 KEY POINTS FOR PLAYERS
Form a legal bind with team mates and opponents
Do not push until the ball is in
COACHING TIPS
Ensure players bind legally to team mates and opponents
6. As a prop with a second row and flanker against machine
TECHNIQUE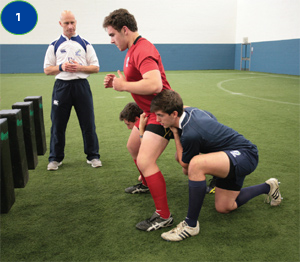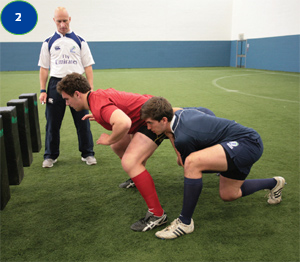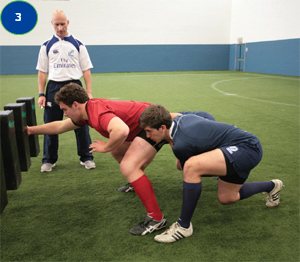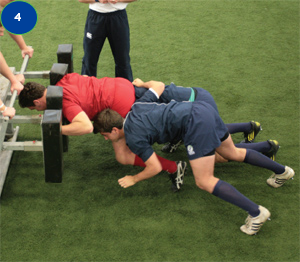 KEY POINTS FOR PLAYERS
Form a safe bind with machine
7. As a second row or flanker supporting a prop against a machine
TECHNIQUE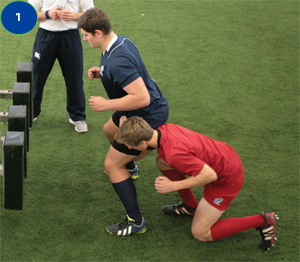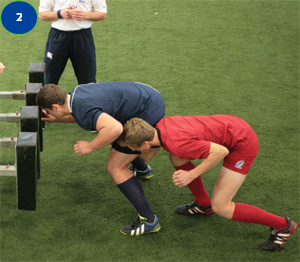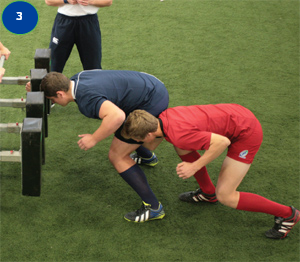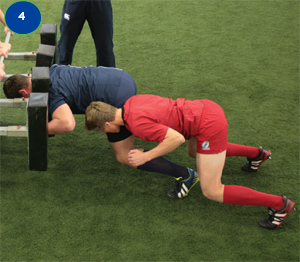 8. In a 5-player scrum against a machine
TECHNIQUE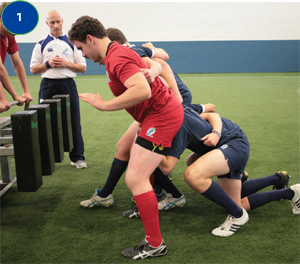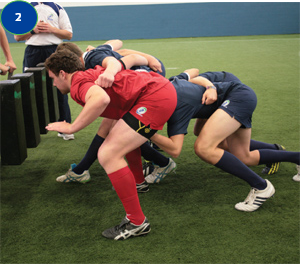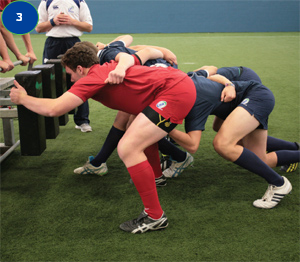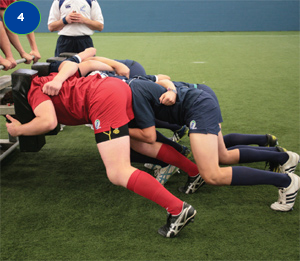 9. In a 5 v 5
TECHNIQUE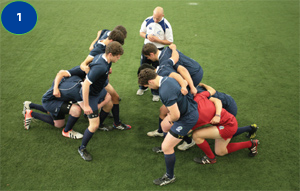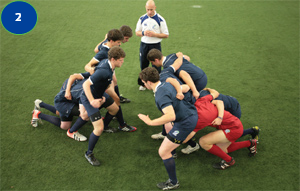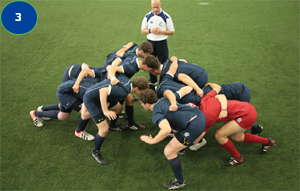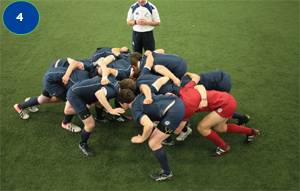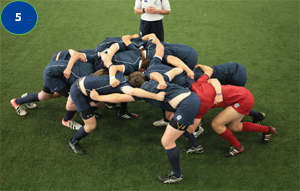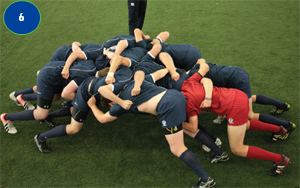 10. In a 8 v 8 against opposition (or against machine if numbers are low)
TECHNIQUE