How should Activate be used?
Setup
Activate can be used at the beginning of and during training, as well as part of a pre-match warm-up. The youth programme should take 15-20 minutes to complete and the adult programme should take 20-25 minutes to complete once players and coaches are familiar with the exercises.
The programme begins with a running-based warm-up, followed by exercises to train and develop lower limb balance, strength, power, mobility, and control when landing and changing direction. While best to complete the activities on a natural or artificial turf pitch with plenty of space, a nonslip indoor surface (for example, a sports hall) can also be used. Coaches should always check the area where players complete the exercises is free of any potential hazards.
Suggested pitch layout for Activate: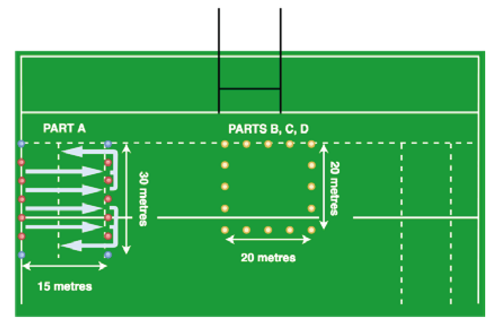 Activate has minimal need for equipment. Setting up only requires some cones to mark the areas to complete the exercises. Many exercises in Activate are performed individually or in pairs, while the running-based activities are group-based. Coaches can also choose to introduce rugby balls or other available equipment should they feel this will make certain exercises more purposeful and fun for players. When players need to perform an activity for a time (for example, 30 seconds), it is best for someone other than the coach (for example, an assistant coach or player not taking part in the session) to keep time. This then allows the coach to focus on monitoring players' technique.
Progression
Activate comprises several progressive levels (Youth – four levels; Adult – seven levels). Players should start using the programme at the beginning of pre-season training, but can also start using the programme later in the season too. If starting later in the season, all players should still begin at the starting level of the programme and progress through the phases onwards.
Exercises are designed to become more challenging when moving through the levels to challenge and develop players' physical abilities. Players will generally need six-eight weeks for each level (12-16 sessions per level if the programme is used twice per week) to develop a suitable level of control, balance, and technique with the exercises before moving to a new level. Certain exercises can also be altered within each level to suit the needs of individual players within the group, either by increasing or decreasing the challenge.
Youth Programme Structure
Each level of the youth programme consists of four parts and has 12 exercises to complete in total.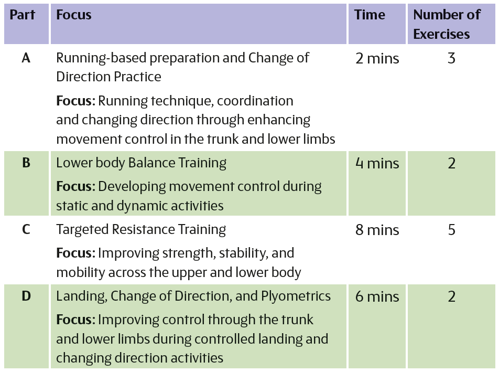 Adult Programme Structure
Each level of the adult programme consists of four parts and has 16 exercises to complete in total.