Applying the Laws
Definitions and law wordings
A replacement is defined in law as "A player who replaces a team-mate because of injury or for tactical reasons."
A permanently-replaced injured player may not return (Law 3.21)
A player may be temporarily replaced for up to 15 minutes (actual time) to deal with a blood injury (Law 3.25) or for a Head Injury Assessment (taking 12 minutes of actual time)
A player who has been permanently replaced for tactical reasons may return to play to replace an injured front-row player; a player with a blood injury; a player with a head injury; a player who has just been injured as a result of foul play (as verified by the match officials); or to comply with Law 3.19 or 3.20 relating to uncontested scrums (Law 3.33)
For all laws relating to replacements, see Law 3 in full.
If a player has a head injury requiring further off-field assessment and a blood injury then 17 minutes will be allowed to complete both tasks.
The control of bleeding will be the priority however the HIA1 off-field Assessment must be completed as soon as possible. The total time available is 17 minutes to complete both the off-field Assessment and control the bleeding. Source: HIA Protocol 
Sevens
In Sevens, a replaced player may only replace a player with a bleeding or open wound and the Law 3 front row exceptions do not apply.
U19s
In U19, if a team nominates 22 players, it must have at least six players who can play in the front row (loose-head prop, hooker, and tight-head prop)
Front row replacements and uncontested scrums
It is the responsibility of each team manager to ensure that they have players who are deemed "suitably trained and experienced" in order to comply with the laws of the game.
All suitably trained and experienced front row players must be designated on the official team sheet before the game, no matter what position they may start the game in.
The team sheet for the match should also show which front row position each player can play in.  The sample template team sheet can be used for this purpose.
If you are using the World Rugby Replacement Manager app, then the appropriate designations should be carefully added and checked.
What happens at an uncontested scrum?
Scrums must become uncontested when there are no suitably-trained and experienced front row players available to form and complete a scrum. This can be caused by player injury or as a result of a yellow or red card.
An uncontested scrum means that that there is no pushing in the scrum and no competition for the ball by the hooker of the side not throwing the ball in. All other laws continue to apply.

This table, published in March 2020 as a Law Application Guideline, summarises the removal of additional players when uncontested scrums become necessary. This guidance only covers matches with playing squads of 23.
Using this table will ensure that the correct number of players are on the field at the point that play resumes. Identify the first event on the left, and then, if necessary, the second event along the top.
Figure 6. Uncontested scrum table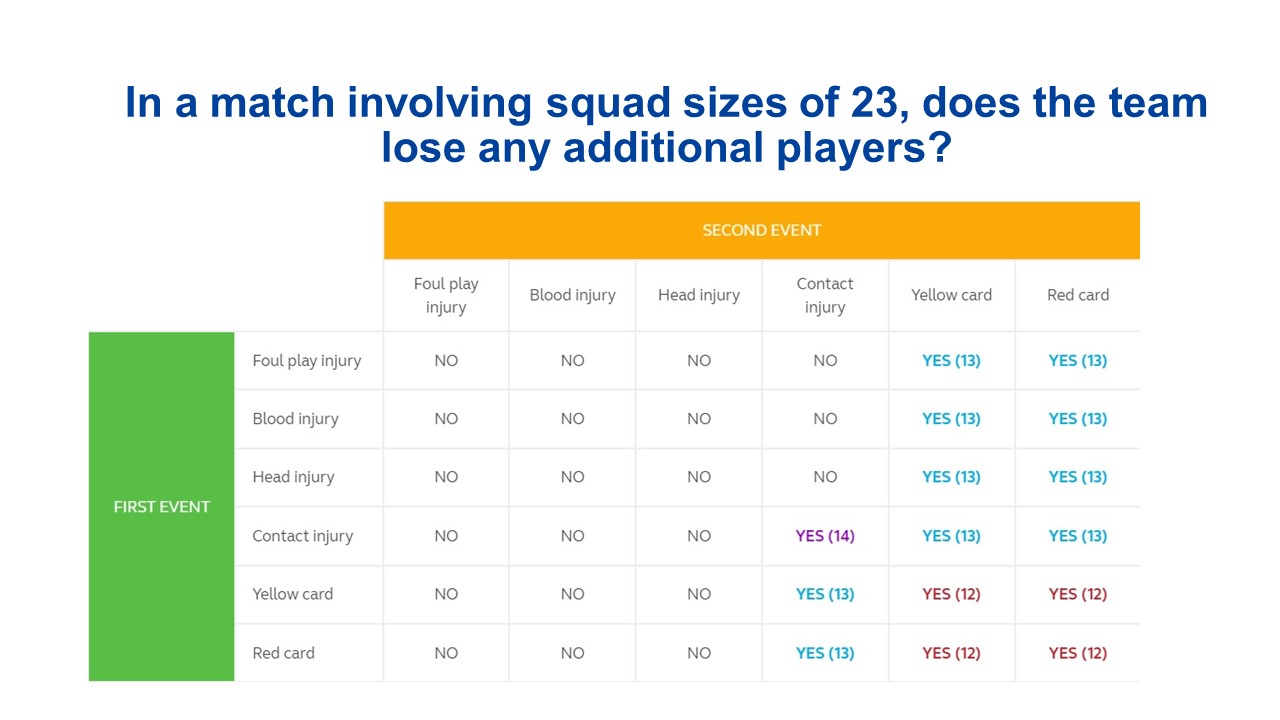 Practical examples
Sequence of events
| | | | | | |
| --- | --- | --- | --- | --- | --- |
| Time | Red Team number | Event | Scrums | Scrum numbers | Players on field |
| 12 | 3 (Prop) | Red card | Contested |   | 15 v 14 |
| 13 | 19 (Prop) | Replacement for 6 to ensure scrums remain contested | Contested | 8 v 7 | 15 v 14 |
| 53 | 19 (Prop) | Back injury |   |   |   |
|   | 16 (Hooker) | Replacement for 19 but not a trained Prop so scrums must be uncontested | Uncontested | 8 v 8 | 15 v 14 |
|   | 7 (Flanker) | Removed due to causing uncontested scrums |   |   | 15 v 13 |
Sequence of events
| | | | | | |
| --- | --- | --- | --- | --- | --- |
| Time | Red Team number | Event | Scrums | Scrum numbers | Players on field |
| 44 | 3 (Prop) | Yellow card | Contested |   | 15 v 14 |
| 47 | 18 (Prop) on for 8 | Replacement to ensure scrums remain contested | Contested | 8 v 7 | 15 v 14 |
| 48 | 18 (Prop) | Yellow card |   |   | 15 v 13 |
| 48 | 16 (Hooker) on for 6 (Flanker) | Must return a front row player to a front row position but 16 is not a prop | Uncontested | 8 v 8 |   |
| 48 | 15 (Full-back) | Removed due to causing uncontested scrums | Uncontested | 8 v 8  | 15 v 12 |